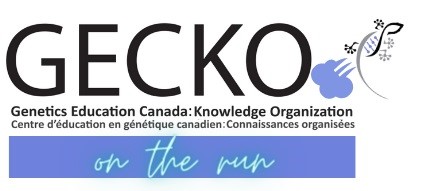 These resources are concise summaries for clinicians on genomic disorders, technologies or topics. They all feature a bottom line with key takeaway messages and relevant resources.
A GECKO on the run is about 2-3 pages in length and is meant to highlight practical clinical information for non-genomics clinicians, such as:
What is the condition/topic/technology?
What are the Red Flags to consider a genetic assessment?
What does the genetic test result mean?
How will genetic testing help you and your patient?
Are there benefits, harms or limitations to genetic testing?
What are the recommended surveillance and management guidelines?
Cancer genomics
Cardiogenomics
Factor V Leiden
Familial hypercholesterolemia
Hypertrophic cardiomyopathy
Long QT syndrome
General genomics
Neurogenomics
Alzheimer disease
Autism spectrum disorder
Epilepsy
Huntington disease
Multiple sclerosis
Pharmacogenomics
Codeine and breast-feeding
Prenatal and preconception genomics
Technologies